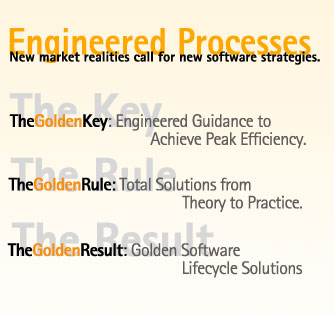 Golden Solutions provides professional services to define and manage business and software requirements. Golden Solutions' Senior Consultants use practical and proven methods that rapidly and effectively deliver business value.
Total Solutions from Theory to Practice
Wherever you require greater control and supervision, whether in R&D, marketing or Customer Service, Golden Solution's processes will transform your management strategy to meet today's challenges. Golden Solution utilizes a number of processes, methods and tools to masterfully configure successful business products. With over 20 years of engineering experience in the field and in-depth knowledge of company dynamics, Golden Solutions works with managers and key personnel to assist companies in designing a customized process while advising throughout all stages of implementation and training; from concept and planning to tracking and fine-tuning the results. Golden Solution specializes in Requirement Engineering while providing expertise in development processes such as Configuration Management, Product Life Cycle and more.